Last night I attended my very first fashion show with a small group of Christchurch bloggers! We were there to be inspired by sustainable fashion - recycled, upcycled, quality, fashion-lasting pieces were the stars of the evening, designed and shown by local artists worn by modens on adorable 50's cycles. Yes, bikes down a runway, it made for a few giggles in the first half with some very nervous (read: wobbly) models.
I loved attending this fashion show! I definitely think I could get used to this life, drooling over such lovely creations!
Best of all, we got to see our beautiful bloggy friend Nin of
Sailor Spy
showcase her range of beautiful, well tailored and detailed clothing! It was such a pleasure to be a part of it and cheer her on!
Afterwards we went out for coffee and talked and talked and talked. As bloggers do.
During half time of the show I had some photos snapped, attempting to join into Wardrobe Wednesday (now hosted by Miriam). Here I am, on the catwalk, strutting my stuff ;)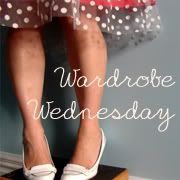 Dress: Lippy (3 years old!)
Leggings: KMart
Necklace: Equip
Red Lipstick: Clinique
First fashion show, first time with Wardrobe Wednesday! Who am I!?